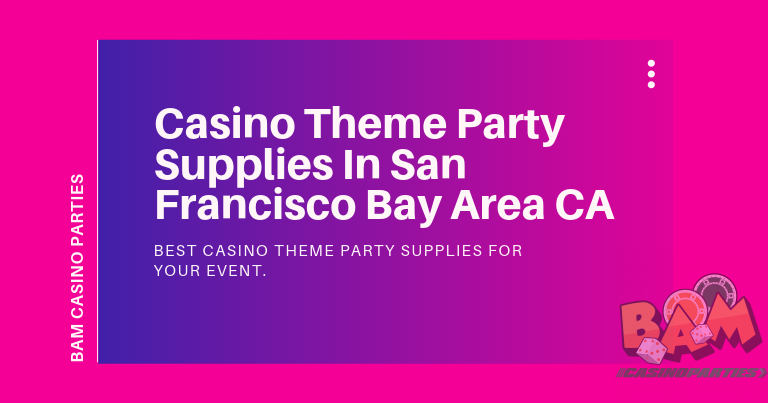 Casino Theme Party Supplies In San Francisco Bay Area CA
Planning a casino night party is definitely not an easy task. If you're the host at an event, you would definitely want to get the right things at the right time first and then concentrate on other important tasks. Deal your casino theme party a winning hand with party supplies and decorations for a poker party or casino night.
So, without any doubt, the comfortable spaces where all your guests can enjoy are uniquely the best venues for hosting the party. We at Bam casino parties boast ourselves in offering the best casino theme party supplies for your events.
Engage your guests in a fantasy-laden reality of fun, games, and entertainment process. Whether it is a creative casino fundraising event, get-together or any traditional corporate casino nights, a casino themed event with the casino night party supplies san francisco ca from our firm is the one that gets you away from a busy lifestyle.
Do you know that being a part of any casino event can surely relax your intense moods and stressful lives? How? It's just so simple to understand, that most of the time professionals build up day-to-day stress in their lives that's not fully released and clings on higher with each passing day.
Also Read – How To Host An Amazing Birthday Casino Party?
Attending a casino event that has an ample amount of casino theme party supplies and casino theme props allow an individual to relax during the party and have quality time for themselves and with their loved ones as well.
Also, this is one of the major reason that we at Bam casino Parties san francisco assist you with each and everything from a single scratch to hosting a casino party event with a big bash.
At Bam casino parties, we carry hundreds of party themes that you will definitely love. Little girls love our unicorn and mermaid party supplies, and boys go crazy for dinosaurs and Despicable Me.
But we don't stop there. In addition to officially licensed party supplies, we have an exclusive range of birthday party supplies, wedding party supplies and get-togethers that you won't find anywhere else.
What are the benefits of selling party supplies?
There may be many benefits of selling these party supplies like:
People have birthdays, parties, small events, and big celebrations coming all year round, every year, so you have a wide variety of customers to serve your purpose. You don't have to worry about the loss of interest over time.
They can be stored easily because of their lightweight nature. So, there is a better profit margin.
You can target a specific market, like children's parties, birthdays, kitty parties, casino themed events, grad nights or engagement parties, etc. This means you can focus your marketing on specific buyers.
These products are fairly cheap, so it's a low-cost with low-risk option.
Popular Casino Party Supplies:
Roll the Dice Casino Bar Decorating Kit
Roll the Dice Casino Cutouts
Custom Place Your Bets Invitations
Custom Place Your Bets Banner
Mini Dice Pinata Decoration
Place Your Bets Casino Confetti
Place Your Bets Casino Table Decorating Kit
Place Your Bets Casino Paper Fan Decorations
Vegas Chips
Las Vegas Poker Chips
Craps Table
Blackjack Table
Playing Cards Cutouts
Casino Cutouts
Playing Cards 25″
Card Party Custom Banners
Casino Banner Decorations
What type of parties do you want to supply?
Different parties need different types of party supplies so here is the list:
House parties

Corporate parties

Trade shows

Bachelor parties

Social parties

Private parties

Small events

Large events

Fun games

Family Reunions

Grad Nights

Bar & Mitzvah

Poker tournaments

Prom parties

Retirement parties

Poker nights

Casino parties

Launch parties

Charity events

Company parties

Adult parties

Birthday parties

Monte Carlo

Wedding events

Fundraising events

Graduation parties
Fold your sleeves, pull up your socks and just work on these areas: decor, culinary delights, casino games, and casino party dress. In order to simplify the party planning process, the experts from Bam casino parties are here to assist you while selecting various items from the list.
Let us delve deeper into a casino party supplies in san francisco ca to help you guide through a party planning process for your special celebration.
Party Supplies List:
Invitations: Invitations are the most important part of planning any type of party ranging from a small bachelorette party to a big fact engagement celebration. Ensure to send out your party invites in advance so that your guests can save the date before making any plans in the coming future.
The invitation should include the party's date, time, venue as well as a way to RSVP. Feel free to include any other special information your guests need to know, like if your celebration is a sleepover or surprise. Make sure to also include a date to RSVP by so that you can accommodate all of your party guests.
Decorations: Whether it is an indoor event at your selected places like a house, friend's home or an outdoor event in the backyard, lawn and park, the vital thing is to decorate the place as per your party requirements. Decorations are an important component to change the look and feel of a particular event. Adding decorations to your party area will help transform it while conveying the theme of the party.
Also Read – How To Choose The Right Venue For A Casino Party?
Here's a look at some of the decorations you could compile to create an awesome party experience for your guest of honor and their guests.
Balloons as per the theme
Banners including the theme name
Centerpieces
Confetti at the entrance
Party Blowers
Party Hats
Party Rollers
Various signs depicting a theme
Streamers
Wall Decorations/Cutouts
Yard Sign
Partyware:  Get the party supplies placed accordingly before your guests arise. No matter what type of meals, snacks or drinks you are serving at your celebration, you will need some partyware to accommodate your guests. Once your RSVP date has passed and you know a final headcount for your celebration, you can purchase all of the plates, cups, and cutlery you need.
Always ensure to have extra in hand for any uninvited guests or mishaps that may occur on the party day.  Some examples of tableware and partyware you'll need for your party are:
Beverage & Luncheon
Napkins
Cake & Dinner Plates
Cups
Cutlery (Plates, Bowls, Spoons, Forks, Knives)
Tablecloths
Dessert cutlery
Eatables: Decide in advance the menu for your guests so that you are relaxed before the party. Not every party needs a dine-out meal to fuel the guests, but it's always to a good idea to communicate with your invitees, especially if a party is scheduled around lunch or dinner time.
Also Read –  How To Host a Texas Holdem Poker Party?
Also, keep in mind that some of your guests might be allergic to some kind of food. So, having a variety of food, snacks and drinks is a great way to keep your guests full and happy. Plan your menu to include any combination of the following:
Cake and pastries
Drinks
Food for a full meal (ie Pizza, Hot Dogs, Burgers, Sandwiches, Pasta, etc.)
Ice Cream
Snacks (ie Chips, Pretzels, Finger Foods, etc.)
Thank You Notes: There's nothing more special to host your loved ones together at one place. It's always a warm gesture to thank your guests with a special note once the party is over. So, personalizing a thank you card for each and every guest is definitely the unique way to show how thankful you are that they were in present in your celebration.
Planning a party can be a stressful task. So, there's no doubt that you forget crucial party supplies. For that very reason, we took the time to list out the things that you need for your event.
Also Read –  Casino Theme Party Favors & Gift Ideas For Casino Lovers
Which areas do we serve?
We serve the entire Bay area and surrounding areas of
San Francisco, South San Francisco, Daly City, Colma, San Bruno, San Mateo, Millbrae, Burlingame, Oakland, Belmont, San Carlos, Redwood City, Atherton, Menlo Park, Palo Alto, Los Altos, Mountain View, Cupertino, Saratoga, Campbell, Los Gatos, Santa Clara, San Jose, Milpitas, Fremont, Newark, Union City, Hayward, Castro Valley, San Lorenzo, San Leandro, Alameda, Emeryville, Berkeley, El Cerrito, Richmond, San Pablo, Hércules, Benicia, Vallejo, Martinez, Concord, Pleasant Hill, Walnut Creek, Lafayette, Orinda, Moraga, Alamo, Danville, San Ramon, Pleasanton, Livermore, Pittsburg, Antioch, Brentwood, Portola Valley, Half Moon Bay, Pacifica, Sausalito, Tiburon, Mill Valley, Corte Madera, Larkspur, San Rafael, San Anselmo, Fairfax, Novato, Petaluma.
Also Read – How To Play Poker Like A Pro At Poker Party?   |    Casino Themed Party Decorations Ideas 2019