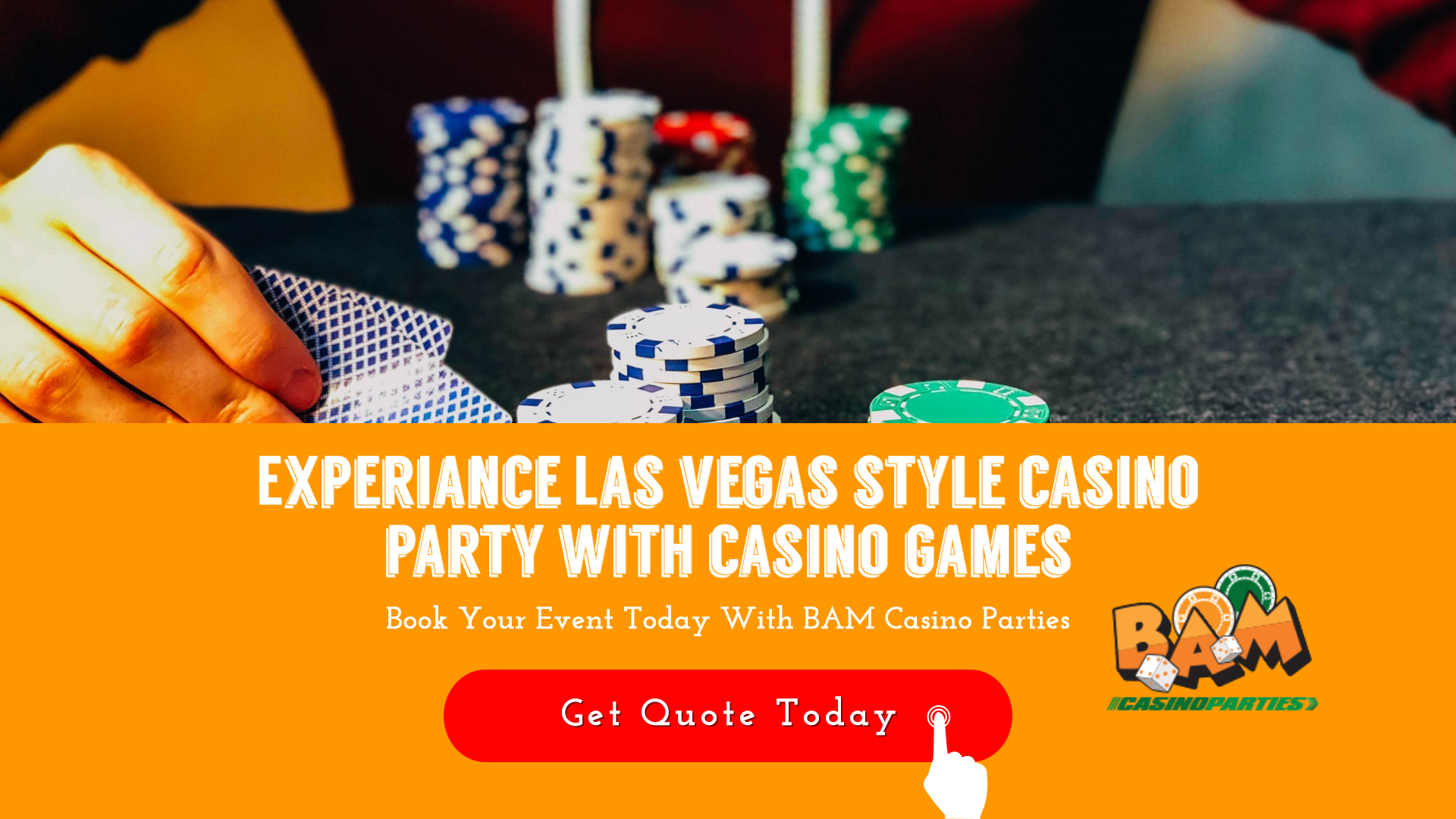 Casino Party Games For Las Vegas Style Casino Night!
Are you planning to set a perfect party in order to glam up your birthdays, anniversaries, bachelorette, get-togethers, and more? Get casino themed party ideas and the casino games to let your guests enjoy the party mood as well. Let us make it much more easy to set your occasion right.
We at Bam Casino Party Rentals will help you serve each and every single bit from a scratch till the end of your event. No matter where you go, or where you live, or where the actual space is, we have the team of best dealers/croupiers to get your preparations done within the desired time. Our clients can genuinely rely on us for the casino party management and execution. Let's have fun in the Vegas style.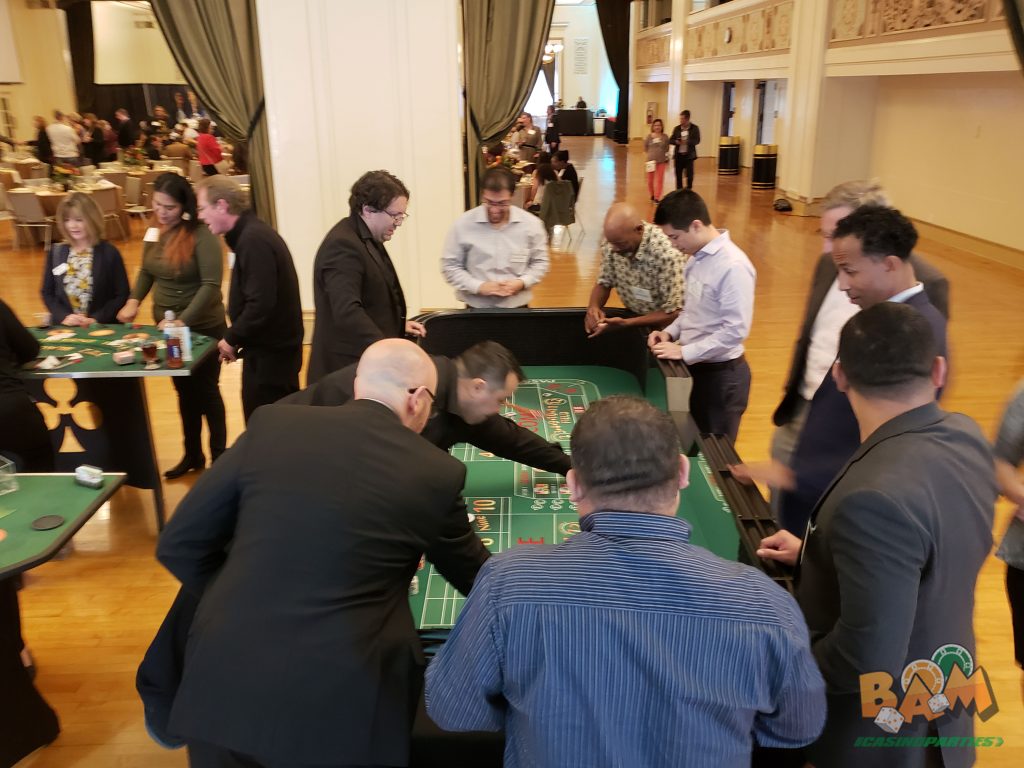 The parties we love to host basically includes:
House parties
Trade shows
Bachelor parties
Social parties
Private parties
Small events
Large events
Fun games
Family Reunions
Retirement parties
Poker nights
Casino parties
Client appreciation
Launch parties and more
Charity events
Company parties
Adult parties
Monte Carlo
Wedding events
Bar & Mitzvah
Graduation parties
From the glitz of Las Vegas to the elegance of Monte Carlo, a casino themed party is the best you can offer to the guests. There is no need to visit any casino to look into the party games that you need to introduce in your party.
We have a list of few casino party games that could be of great help for your party. Let's take a dig at it.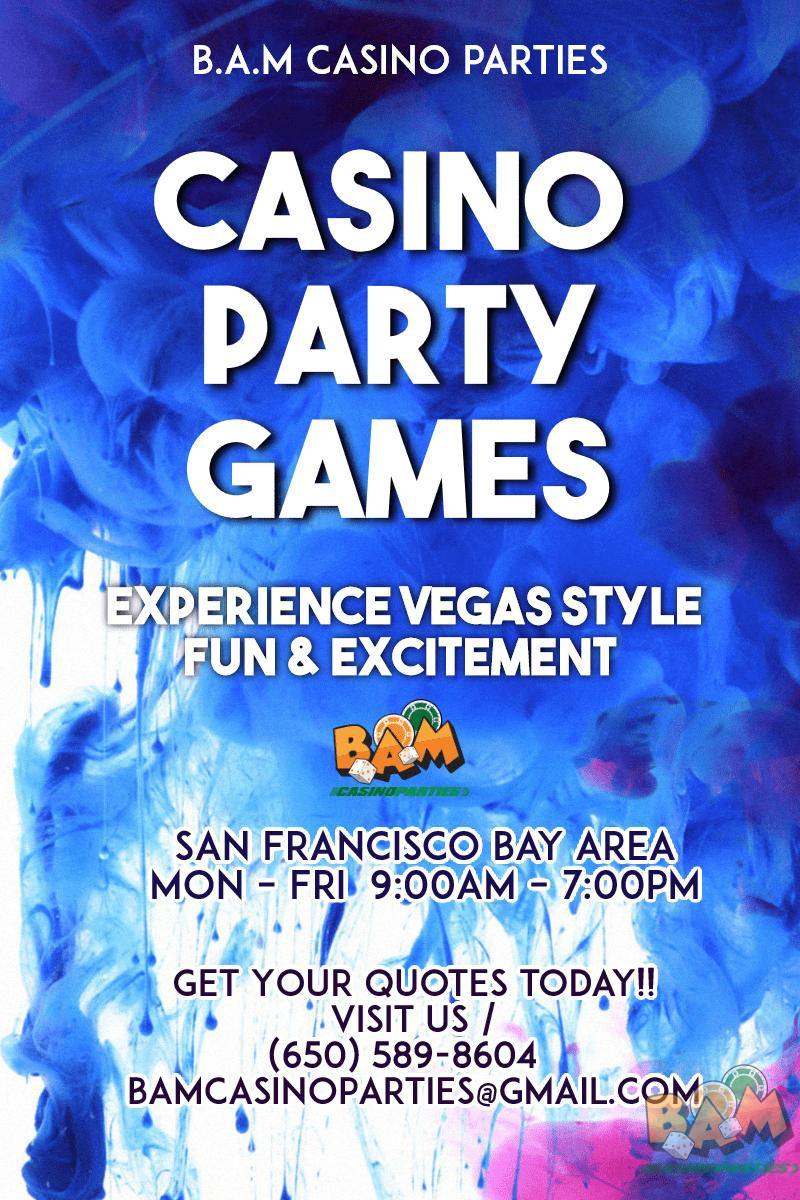 Roulette is also called as a zero game that is named after a French word roulette, (means a little wheel). A player chooses to bet for a single or a multiple ranges of numbers. A game has three versions that are particularly named after the region it was developed, European, American and French. French Roulette offers overall bets to the next spin which is different in case of European roulette where just half the value of the bets are returned. Its different for the American roulette where an extra slot is presently called as double zero.
Poker
One of the unique and classic casino games that particularly includes Texas Hold 'Em, No Fold 'Em poker game that is likely to be game for which your guests are more familiar. Each player is offered with two cards, face down. Everybody bets and each person either calls raise or folds. Each player should make the best hand possible.
Three card poker
– A card game that offers its players to win by letting them bet and providing them with a number of opportunities. Three Card Poker has gained popularity not only because it's fun, but because it's also easy to learn. Three Card Poker is like getting two Las Vegas casino games in one. Not only can you play against the dealer, you can also win based on how good your cards are.The object of the game is to make the best poker hand possible with only three cards. The best thing about playing Three Card Poker? The chance to win a through the six card bonus paytable, which hits if the dealer's and player's cards combine nine through Ace in a royal suit of diamonds.
Pai Gow Poker
A variation of Chinese domino pai gow game and is played with a poker combination. If you're looking for a slower-paced game than Craps or even Blackjack and want to spend a lot of time gambling without losing an outrageous amount of money, play Pai Gow Poker.An interesting element of Pai Gow Poker is that any Player can request to be the Banker. In this instance, all Players compare their hands with the new Banker rather than the dealer.
– One of the most commonly played games in the casino is 'Craps'. The players may wage money against each other or the bank. While playing this game, players take a turn rolling two dices, also the player throwing the dice is called shooter. This is the single or a multiple player game where each round matters a lot. Each person playing craps bets on the same roll of the dice, whether they are players or shooter.
– Blackjack is most commonly played on the arc-shaped table with up to seven players on the outside and the dealer in the inside. At one end of the table rectangular placard is present that tells the maximum and minimum bets at the table as well as offers variations in the rules. Each participant attempts to beat the dealer by getting a count as close to 21 as possible, without going over 21. Traits like self-control, luck and undoubtedly the strategy to defeat your opposite party may offer you a great result. The game is thought to be dealing with factors like hits, bets, payouts, and stays.
– A heads up card game with only two players. Different rounds of betting go with the gaming. Texas Hold'em Poker particularly falls into the shared community card category, along with other poker variants also.Texas Hold'em poker is one of the most popular poker game with its numerous variations to play. This unique card game is played by maximum number of people in the world where each player has 2 private cards and 5 open cards. The player gets two cards that are not visible to the other players and are called as 'hole cards'. The other five cards on the table are called as 'community cards'. The game is  played in a clockwise direction around the table.
Money wheel
– The wheel is also called as a Wheel of fortune or Big Six wheel, that is usually played on a vertical large wheel with a fixed pointer on the edge. Money wheel is a big wheel made up of plastic or wood with lots of different colored sections. The player needs to bet on the combinations available on the giant money wheel and the player wins if the wheels end up spinning on the same combinations.
Let it Ride
– New casino game that is inspired by the traditional poker game but you don't play against other players. A table casino game based on poker. The game is a variation of a five card stud that requires three player cards and just two community cards.
Let It Ride is a variation of five-card stud, based on three player cards and two community cards. The two community cards are initially dealt face down. The most distinguishing feature of Let It Ride is that the player is given two opportunities to withdraw exactly one-third of their initial wager. One chance occurs after the player looks at their hand but before the first community card is revealed, and the second occurs after the first community card is revealed, but before the second is revealed
Double Roulette
– It is a variation of a traditional game of roulette that basically uses two balls instead of one to get going. It uses compressed air to shoot out the two balls from a tube simultaneously. The balls travel at the same speed so that the second ball always trails the first ball.
Similar to American roulette, in Double Ball Roulette the wheel consists of 38 divisions (numbers 1 to 36, a single zero and a double zero), while the betting layout on the table is almost the same. When placing inside bets, a player has two chances of success, but, however, the payouts are lower than those in traditional roulette. On the other hand, when placing outside bets, a player wins if both balls drop into the selected numbers. Payouts for outside bets, however, are higher than those in traditional roulette.
DIY CASINO GAMES
Apart from the above listed classic casino games, we at Bam Casino Party Rentals, offer you various ideas for much simpler games that can be a lifeline to your casino nights. Your guests will surely love it.
Card Tambola
– Playing cards and Tambola are one of the most played games in the parties, be it a family reunion, bachelorette or small birthday parties. Play this game named Card Tambola just like Tambola. You need to simply call out playing cards instead of numbers and you are ready to enjoy the entire fun filled casino parties at your desired places.
Roulette
-Prepare yourselves to handle each and everything at your own. You can easily take up your hands on the interesting games that can set the party on fire. Prepare your own roulette board. Buy the wheel from the market. It is easily available and yes, you are ready to play now.
Shot Roulette
-Yes, you have one more to the queue now. Shot roulette is one of the most demanding games played and even liked by all age groups. One of the classic games that demand self-control. Don't forget to enjoy a champagne party. Just remember to spin the arrow and drink to your heart's content. The game promises loads of fun and entertainment for your guests.
Card Castle Building
You must have seen a lot of kids building a castle with help of playing cards, so why not get the game into your parties. It will be huge fun for your loved ones and might become the lifeline of your party as well. Divide the teams equally and provide them the playing cards. Each team's member will come and keep a card in such a way that it is a step to build a castle with a bid. The player with the highest bid wins.
How long does a casino party remain?
Let us know for how long you would like to get your gaming action. We are always open to the proposal made by our clients. We have approximately three hours for the casino, as this may be the ideal time but we can surely extend an hour or two as per the need of our clients. BAM Casino Party Rentals boasts itself in providing the best casino nights for you.
The service area includes entire Bay area and surrounding areas of
San Francisco, South San Francisco, Daly City, San Bruno, San Mateo, Millbrae, Burlingame, Oakland, hillsborough, San Carlos, Redwood City, Atherton, Menlo Park, Palo Alto, Los Altos, Mountain View, Santa Clara, San Jose, Milpitas, Union City, Hayward, Castro Valley, Walnut Creek, San Ramon, Pleasanton, Livermore, pleasanton,