Arranging a party at your home and want it to be a big bash party. It couldn't become a successful affair without any games into it and it is obvious that when it comes to games and having fun, nothing can beat the enjoyment of playing casino games with your family and friends. Your guests will love to play the game and feel the excitement you want in your party.
You want your guests to relax and enjoy, we here at BAM Casino Party Rentals will take a step forward to let you have what you want. Blackjack is one of the popular games in the casino to spice up your entire day. One of the most popular games of casino is the BlackJack or 21, it is the most popular casino game which is played with cards and purchased chips. Bets are made among the players and due to the involvement of cash, some relate it with real life gambling as well.
What is Blackjack?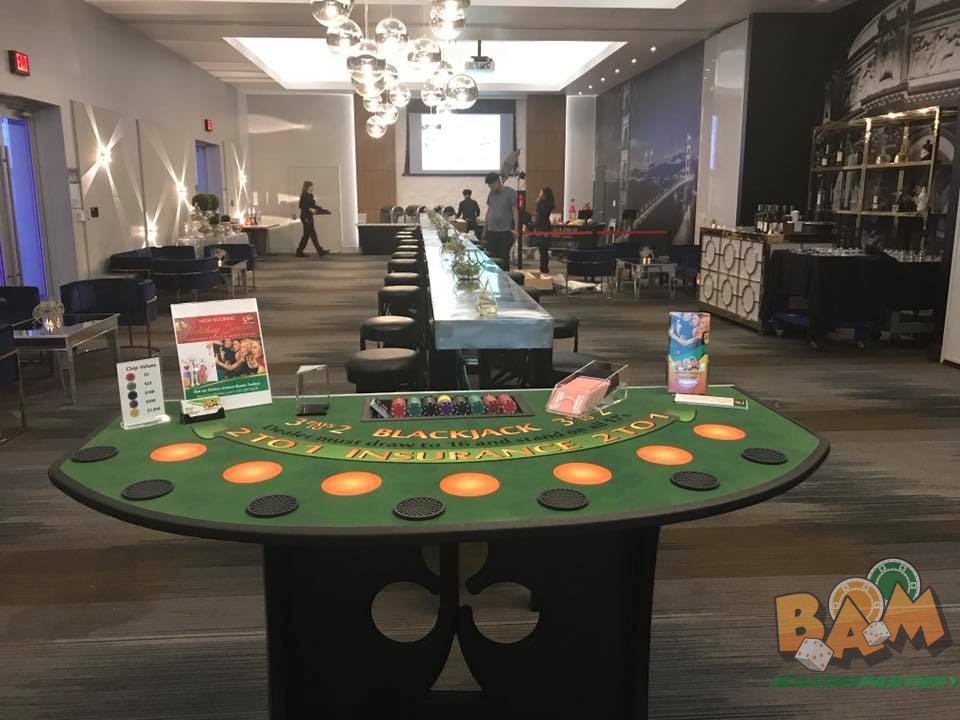 Blackjack is commonly known as Twenty-One. It is one of the most fascinating card casino games all around the world. It's popularity ages from World War I and its roots go back to the 1760 in France, where it's called Vingt-et-Un (French for 21). Object of the game is to reach a final score higher than the dealer without exceeding 21.
Game Type: Casino Games
Age: 18+
Players: 2, 3, 4, 5+
Tag: Twenty-One Vingt-et-Un
Play basically begins with the player to the dealer's left. The choices available to the player are as follows:
Stand: A player stand pat with his hands
Double: A player doubles his bet and gets one more card
Hit: A player draws another card. If this card gets the player's total points to exceed 21, he loses.
Split: If a player has a pair, or any two cards with 10 points, then he has a privilege to double his bet and separate his cards into two individual hands. The dealer can automatically give each card a second card. Here, the player can hit, stand or double normally. If a player gets ace and ten after splitting, then it counts as 21 points, not a blackjack, keep in mind.
Surrender: A player forfeits half his wager, keeping the other half, and does not play out his hand. This option is only available on the two initial cards depending on casino rules.
BAM Casino Party Rentals creates a realistic casino night atmosphere so you can have lots of fun while losing no real money. We can assist you with every detail of your casino night from beginning to end to ensure you have a fun, exciting, and successful event! It is a chance of a lifetime to play blackjack, be taught by professional dealers and not lose a "real" penny.
The rules for the game are too simple, game is played using six to eight decks, where the cards are shuffled after each hand.

Rules for Playing Blackjack:
Player Blackjack pays 3 to 2.
Dealer hits on soft 17
Any winning hand is paid 1 to 1
Surrender any first two cards
Insurance pays 2 to 1
No re-splitting
Split aces just receive only one card
A split ace and a 10 value card is not a Blackjack
Split up to three hands
Card Values:
Aces have a value of 1 or 11
Queens, kings and Jacks have value of 10
Cards 2 to 10 have face value
Card suits are irrelevant
How To Play Blackjack?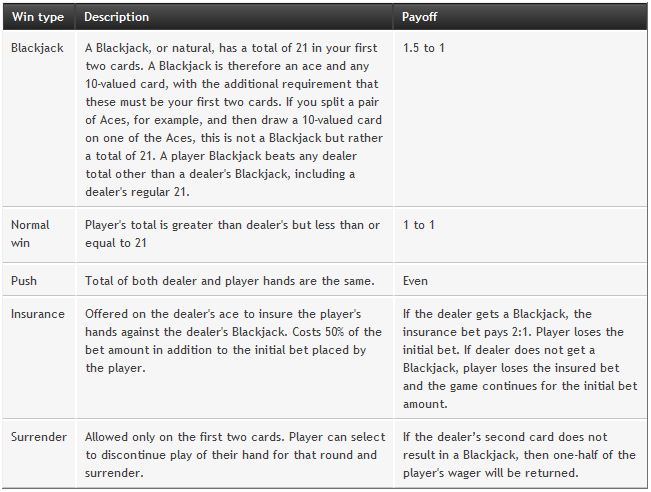 Players in Blackjack independently compete against the dealer to be closet to 21. Aces are 11 and 1, face cards count 10, and all other cards (2-10) are counted at face value. Player's cards are dealt up and a dealer has one card up and one card down.
If the dealer has up card an 'ace' they will provide an insurance which is basically a separate bet that a player can make before the dealer looks to the down card.
This insurance bets wins if the dealer has 21. This bet may be half of their original bet. The dealer can now look at their hole card and if the dealer has 21, players loose the original bet. If not then, the player with Blackjack '21' are paid double. Remember that a dealer's Up card decides the player's action.
Our professionals lets you experience the fun-filled casino nights without loosing your real money. Here, at BAM casino party rentals our dealers can assist you with every detail of your casino party from the beginning till the end to ensure exciting, and successful bash!
Whether it's a birthday, retirement, get-togethers, bacheloratte, Christmas, new year or any other party, BAM casino party rentals will be always there to assist you with the best look, feel and the alluring environment.
Never miss a chance to live and relive the best moments with your dear ones. Groove your body to the rhythm of the dices, cards and the sounds to have the unforgettable experiences.