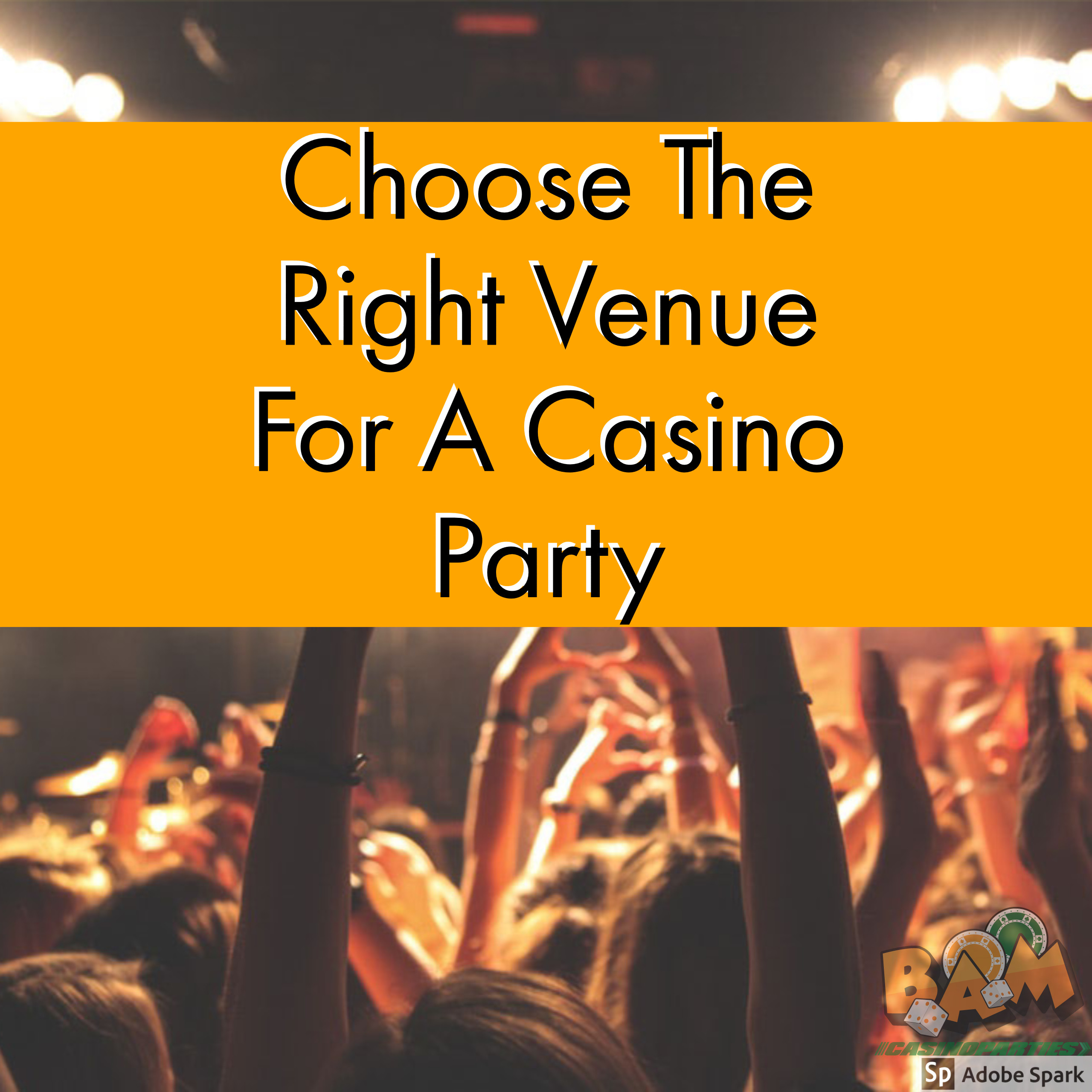 How To Choose The Right Venue For A Casino Party?
Being a host means there are few major decisions that need to be taken before planning and finalizing anything like casino party games, poker party venue details, date of the casino event, casino party rentals, snacks, casino gifts, decorations and yes, last but definitely not the least, your list of guests.
Choosing a casino party venue is the one decision that will have the largest impact on your event.
You need to choose space that can accommodate the items necessary for your poker party.
The date of the event, catering options, and attendees experiences all are partly affected by which venue you select.
When should you start looking for a Venue?
It's rightly said better sooner than later and yes, if you have a clear idea of a budget, space needed and the number of guests then its a good decision to search for better deals earlier to shortlist great spaces.
Try booking a venue 4-6 months in advance so that you can easily concentrate on other critical things like catering, decoration, outfits, invitations, Casino Party Games, Favors & Gifts and more.
We at Bam Casino Parties offer an ample amount of choices that will be helpful for you in order to decide a particular space.
So, by choosing the right option, you can make the best choice that suits your needs. Below are a few options to choose for your casino night party venues and their advantages.
Your Home
Planning a casino night at your home is one of the most cost-effective options for you. Consider your home as the venue for the most awaited event if you have space or you can make the space to accommodate the furniture and the needs of you and your guests.
You can opt for an indoor event with a large enough room and other rooms in the house or can go for outdoor spaces like the backyard, the garage.
If you host it inside the house, then you can clear away the furniture and create a comfortable enough space for everyone.
It you decide outside space in the house then definitely casino party decorations can play a major role.
Your Friend's Place
If you are low at budget or lack enough amount of space at your home then don't hesitate to ask your friend to help you so that you can conduct a caisno/poker party at his/her place.
If you have a friend who has a large home, you can offer to rent out space.
It is more likely though that if you share a great bonding then they'll let you use their space for free.
Keep in mind that if you are opting for your friend's space, place things as they were before you used the space, as this is the polite gesture to do.
A Rented Out Venue
If you can afford to rent out space then you may consider a rented out venue for your party.
When renting out a venue, keep into account that decorative items for space are necessary and double check that the venue provides tables and seating for the guests.
In addition, you can also bring your own food or hire a catering service, select Casino Theme Party Favors & Gifts.
If you are hosting a casino event or any other event be it a fundraiser event then choosing the right venue that can be suitable for all your needs really require great and dedicated efforts. It can take time but there are few options like
Contact the area's local Convention & Visitors Bureau to inquire about venues that best suit your needs.
Take help from the various event listing websites.
Use internet services to shortlist venues and finalize the one right for you.
As you can see, there's a lot to consider when choosing a casino party venue in Bay Area. However, if you take the above into consideration when doing your research, you'll find the perfect venue for your event.
Location of the venue:
Always look for a venue with a considerable distance from most of your guests places. It should be easily accessible and consider the traffic, parking needs, and other conveyance options if in case its too late.
When it comes to the location of your event is how easily your average event attendee will be able to reach it.
If most of your event guests will be "in-town" guests, then holding the event in close proximity to their homes or offices makes sense.
Consider opting for a safe place with a safe surroundings son that your guests won't restrict themselves for staying late to enjoy a party.
Capacity:
You'll need to know the space capacity of the venues for a few reasons. Firstly, 500 people (if it is your estimated event size) it can't comfortably fit into a room with a 250-person capacity.
And second, there are fire and safety codes that the venue has to abide by so knowing about the space capacity to adjust your guests is a must.
Cost and budget:
Staying in budget is always one of the biggest concerns if you are planning a casino event so co-budget is obviously a primitive factor when you are deciding to finalize a venue. Keep in mind the date and time of year when planning for cost effective casino party.
One of the biggest ways to lower the price of a venue is to have your event on a day that is less sought after than others.
Be genuine and get aware of any additional services a venue offers in that space to save you from getting out of the budget while making the final payment.
These extra services usually include queries like Do you have all of the equipment you need for your event or will you need the venue to supply it?
Does the venue have its own setup/cleanup crew or will you need to hire someone to take care of it?
All of these questions should be asked before you choose your event venue and should also be considered when looking at cost.
Weather Conditions:
If in the case weather turns bad on that event day then what services do they have to streamline the entire event. Are tents or alternate space provided or is the party outside won't be affected due to waterproof tents.
These are the few queries that need to be sorted there and then while finalizing the venue and do these cost you more in any case.
Ambiance:
A great ambiance is a way to your successful event and perhaps its the least technical aspect of a venue to consider.
But let's be very clear that it all depends on the mood of a casino party that you want to organize.
If you are hosting a fundraiser casino party then you probably want an extravagantly fancy venue.
If you are up with a family get together or a corporate event then a less formal venue can solve your purpose.
Think hard about the message you are trying to send to your event guests and how you can get it across with the environment you choose for your event.
Now that you have an idea of where you want to hold your event, it is time to lock in a few other things, like what kind of entertainment you'll have!
We at Bam Casino parties, offer you various ideas for much simpler games, provide casino rental equipment, casino gaming tables and dealers to let you enjoy your event.