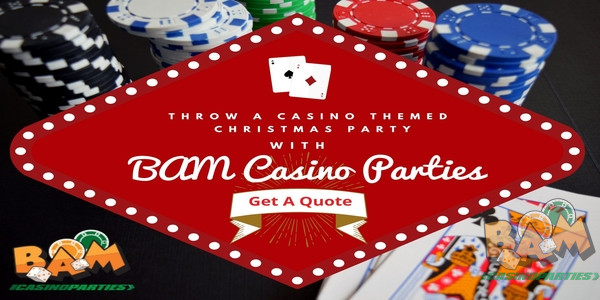 Host A Casino Themed Christmas Party in Bay Area CA

The holiday season is exhilarating for a bunch of reasons – the cookies, Christmas cake, enchanting decorations, and not forgetting those alluring gifts. That said, there is one thing that everyone looks forward to – epic parties.
Though, having a typical holiday party is fine, but who doesn't want to have something extra? So, if you are looking to throw a Christmas casino party in Bay Area, BAM Casino parties can help you organize a party that your friends and family members will cherish for years to come.
From exhilarating games to themed food, there is so much you can add to have an eventful Christmas party.
So, without further ado, let us discuss the things you need to have to organize a Casino Themed Christmas Party.
Send Out Invitations
You can add a fun element by sending out invitations. Speaking of invitations, your first move should be to get them printed in the size of a playing card and sticking them on the card should be your next move. You also have the option of having casino chips as tickets for the plus ones and for all those who are there working at the party.
Nowadays, with the advancement of technology, sending electronic invites is in vogue. Using a font that has a Las Vegas feel to it will have an edge. Add that fascinating element to the Christmas party by adding dice or playing cards. Before you finally send out the invites, make sure you have finalized your favorite casino theme be it Las Vegas Lounge Type or Speakeasy Type.
Also Read – How To Host A Perfect Casino Themed Party
Set Your Budget
Having a budget for your casino-themed Christmas party is one of the key elements to plan your party and it holds great significance. This will assist you to –
Plan the scope of your party
Decide how much food items you can purchase
Decide different entertainment and games you can rent
As long as the budget is concerned, it all depends on you and all those who are helping you out in planning an unforgettable party. While having a healthy budget is best, there are a plethora of entertainment options for budgets of all sizes.
Type of Casino Theme
If you want to add Las Vegas vibe to your party, then don't forget to add velvet ropes, beautiful decorations, and glittery lights. Using green felt for the tables will add that casino feel to the party. If your budget allows, adding custom made casino chips or bingo cards for the party will set the mood. As far as Christmas decoration is concerned, you may want to go with the decorations that reflect the festive spirit of Christmas.
Also Read – Casino Themed Party Decorations Ideas
Slake the Appetites
Gamblers, in Las Vegas, don't have an affinity for the plated meals. Instead, they snack on finger food, which is the best idea for having a casino-themed Christmas party.
Be creative with the food that you will serve to your friends and family members at the party. You can go ahead with mini roulette pizza, prime rib (known as the king of casino dining), mini baked potatoes, slot machine fruit, domino brownies, dice cheese ball, and a lot more. Add that extra color on the table by adding red and black licorice twists. By all means, if you want to have a holistic and luxurious casino feeling, you need not force the theme on the cuisine at all. All you need to have Hors d'oeuvres in the menu and you are an automatic winner.
Choose Your Games Astutely
This is where you will have to decide the games you want at your Christmas-themed casino party. With Bam Casino, your concerns related to renting casino games will be taken care of. You can rent games like Craps tables, Roulette setups, Blackjack tables, money wheels, Black Light Casino, and Texas hold 'em tables.
Along with providing some of the best casino games, we also provide staffing of experienced dealers. When you choose us, we will assist you in setting up the games, we will also guide you about what will fit your budget, and most importantly what games will work best as per your party space. Your games will help make your party – expect that entertainment will be a significant part of your budget.
Keep the Drinks Flowing
To have the true high roller experience, nothing beats the casinos like open bars. If you are planning to serve alcohol, it is advisable to stick with wine, beer, or ciders. Serving the drinks in the plastic tumblers or serving in martini glass will surely make your guests feel as if they are enjoying the ambience a casino. Try to go wild with casino-theme by adding ice cubes that look like dice to your Christmas party.
Offer Attractive Gifts
It is hard to imagine a Christmas party without gifts. You don't want your friends and family members to leave the Christmas party without gifts, do you? So, here are some of the best gift options to consider for all those who love a good gamble –
Casino charm bracelet
This bracelet might not carry real jewels; however, the dice and slot reels charms will bring you luck in your next poker game.
Custom playing cards
You must have a set of cards in your home. But you can make these cards to stand out by customizing them using the photos of your loved ones. You have the option of printing the picture of your friend or a family member, on the face card or the back. This will help create a fun and exciting gaming experience.
Casino bird house
If one of your friends or a family member is a gambler, this does not mean that he/she is not fond of gardening and doesn't like to decorate their home. Bearing a casino look, this bird house is sure to entice wildlife looking for a good time.
Personalized mug
Giving a personalized mug bearing a gambling-related customized image is one of the great Christmas gifts you can give to your friends or family members. The best thing about this gift is that it is compact, and it also serves as a sock filler.
Las Vegas-themed breadboard
This is a unique casino-themed Christmas gift as it is not only customized to show a holiday or a special anniversary, but owing to its versatility it can be used in the kitchen as well. Enjoying your cooking experience with a breadboard from Las Vegas will remind you of the great times you had with your friends and family members.
Roulette clock
If your beloved gambler is fond of playing Roulette, then this clock will be a perfect gift for him/her. This is, undoubtedly, one of the great thematic additions to a gambler's home.
Also Read – 10 Casino Theme Party Gift Ideas For Casino Lovers
Wrap Up
Throwing a casino-themed party is a great way to conclude the year. You can even opt for the professional casino party supplies in san francisco ca, we will take care of all your needs and make this Christmas party memorable for you and your loved ones.