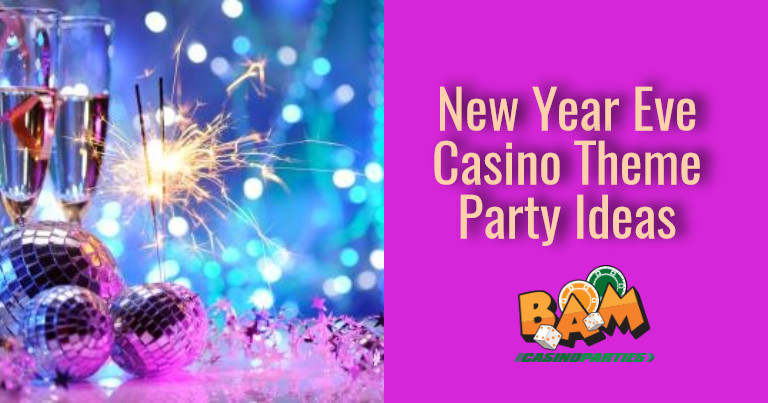 New Year Eve Casino Theme Party Ideas
Celebrate New Year Bash With A Few Casino Themed Party Ideas
Ohhhh great!!! Excited to spend your new year's eve with your loved ones. Are you bored with the same old routine parties and want something unique? We at BAM Casino Parties have the best ideas to spend New Year with a fun casino themed party ideas.
So, Let's take up the toll and help you discover various casino themed party ideas to execute the parties at your best niche. Keep in mind that it's your party and the unique style should definitely match the actual party mood from scratch till the end with a theme that spreads good cheer.
Whether you're looking to plan a casual gathering or go with a formal celebration, these New Year's Eve party themes will help you enjoy the New Year party in San Francisco in a perfect way.
Get An Instant Price Quote
New Year's Casino Party Checklist:
Pre-plan your party needs: Pre Planning is never a bad idea. You definitely an ample amount of time to pre-plan every single bit of the occasion. It can always help you to organize, plan and execute the New Year's casino-inspired party ahead of time.
Budgeting: Keep in mind to plan a budget for your New Year's Casino themed party as it may never act as a hindrance to your party. With each and every party for your guests, you must be aware of money management and how much you would love to spend to make your event a perfect bash.
List Of Guests: The list of guests and their taste as well the ambiance is one such primary need that shall never be ignored. The budget can be decided as per the number of guests and accommodation for the desired casino themed party of your choice after the creation of guests list.
Invitations: Inviting your guests is one of the most demanding processes that needs to be performed well before the actual party begins. Create your own invite by cutting hearts, diamonds, spades, and clubs from black and red cardstock. Write your event's information with various colored paint markers on the front.
Venue and Time: Booking the venue and selecting a perfect date can always open up the best choices to grab the awesome deals and discounts if you book ahead of time.
Selection of Games: Discuss a plan with us, we at Bam Casino Parties will assist you with the best popular games and decorations to leave your guests awestruck. We will be glad to offer you a list of games to choose from so that your event should stay away from the boredom.
Casino Gaming Rental Equipment: To play these casino games you would definitely need a casino gaming rentals so there would be no doubt in it if we say that you have to decide well before the time an entire list of party games.
New Year's Casino themed decoration: The decorations may take your small budget away so try using the best out of waste. Transform gaming tables in a way of casino floor for an authentic casino feel. Using led lights, smoke, music and other themed pops can add an authentic casino touch to your event.  You can also make a giant dice, set up a photo booth and have plenty of other ideas to set everybody's mood on fire. It is very important to decorate the spaces for your guests for a New Year's Eve party, so that its a fun night to spend with all your loved ones.
Food and Drinks: Be it cocktails or mocktails, have it all ready. What's a party without any drinks and food? To keep your guests involved in the party, try serving finger foods so that their hands are not engaged often and they can play easily. If you can afford to hire a bartender then we would suggest you buy your alcoholic mixes at the liquor store.
Let's begin with a New Year's Casino Party Ideas:

New Year's Eve Party: Set the tone right for the entire night. New Year's Eve is a fun and exciting time all about reflecting on the past year while looking forward to crafting new memories with loved ones. Your party's style should match this special sentiment from start to finish with a theme that spreads good cheer. Whether you're looking to plan a casual gathering or go all out with a formal celebration, these New Year's Eve party themes will help you ring in the New Year the right way.
Western New Year's Eve Party: One of the best choices to celebrate a new year with your family in a cozy environment that offers the guests to do something really different on the party day. Step out and get ready in your favorite cowboy boots to spend the entire night with fun-filled moods and enjoy dancing, games, food and much more.
Hollywood Themed New Year's Eve Party: You are the one who can host the glamorous Hollywood themed New Year's party at your homes. Bring Hollywood to your desired spaces with a Vegas-style fun celebration. Host a red carpet with photo opportunities, along with a fancy cocktail hour before the big countdown. Have your loved ones to dress as per their choices and don't forget to send each guest off with their own Hollywood movie star. A perfect party theme includes an ample amount of black, white, gold, and red decor to decorate your party spaces.
Times Square Themed Casino Party: Don't try to forget the epic ball drop at midnight by adding glamour and glitz like a times square theme by creating your own shiny and colorful hangings on the ceiling. You can always decorate the spaces inspired by the big apple throughout the party along with New York City inspired street food and drinks to stay true to your desired theme. We at BAM casino parties can help you have the best-themed party ideas like never before.
Glow Themed Casino Party: Fiber optic lights are needed to get your spaces and dresses into action for the glow themed casino party ideas. Buy black lights and its must to set them all around your house. A unique themed party that can make out hell from your madness. The electrifying mood switches you apart from the hustle and bustle of the fast-moving life in the darker party spaces.
Retro Themed Party: This must be your parents favorite one as this a flashback to their old mixed memories of the 70s, 80s, or 90s. A fun costume-oriented idea that encourages the guests to do more creativeness with their outfits and enjoy the favorite moods. The thing to keep in mind is the decor and music that has to be aligned with a decade you have already chosen for your New Year themed casino party. Karaoke and props can add that extra factor to make your party a huge success.
Rest And Relaxation: Ditch those old party ideas and go for the relaxing spa party. You will never regret this non-traditional and intimate way to celebrate the New Year's Eve. Your guests will love the idea and have a relaxing party which will be remembered for a long time. Set up relaxing stations for mani-pedis, facials, massages, nail arts, body and hair spas. Pamper yourselves with this creatively themed party idea to relax and enjoy your vacations.
Masquerade Party: Have fun and enjoy your New Year's party with your loved ones that will take your guests back in time to the 17th Century into the heart of Venetian culture. Decorate your party spaces with props, jewels, stones like emerald, ruby, sapphire, pearls, zircons and many more. Ensure that you have a great space to tap your feet and let your guests dance on the dance floor. Don't forget to bring out the masks with a mysterious way to have a fun night at the New Year's Eve. The staff at BAM casino parties is your one-stop destination to have all the fun and entertainment. This trendy theme party is all about the unique masks, mysteries in the form of garlands, centerpieces and, of course, accessories for your guests. Create an extravagant menu made of simple foods like light finger foods, fries, platters and more. Set the mood by serving champagne cocktails as your guests arrive.
Casino Night Themed Party:  Host a complete fun loving party for your guests. A casino themed party can never go wrong if you desire all the glitz and glamor of Las Vegas. You can set up your party spaces for the popular casino games like roulette, poker, craps, cards, bingo or blackjack. You don't have to worry about keeping your guests engaged for the entire party with a best-selected casino parties by BAM to your rescue.
Gatsby Themed New Year Party: This is to be definitely favored that everybody loves the great 1920's festivities and glamour. So, adding a Gatsby style to your New Year's event can turn out the tables into festive moods like never before. So, how about throwing a Gatsby-themed party for your guests. Grab a glass of champagne and celebrate with your family and friends, regardless of any occasion. Decorate the party area like the 1920s. Have gambling tables, beaded curtains, and a stage with a singer, saxophone player or band. Don't forget to include Ostrich feathers in your bouquet.
The countdown begins for 2019. With these New Year party ideas, you will be having so much fun that you would never want this night to end up. This New Year's Eve will be a memorable one as long as you commit to your theme and have our staff at BAM casino parties to help you plan, execute and manage the fun-filled parties.
Once you find the party theme that fits your vision the most, your planning process won't feel like work at all. Create as many New Year's Eve memories as your loved ones this holiday season. Pamper yourselves and enjoy each moment like it's the last.
Also Read :