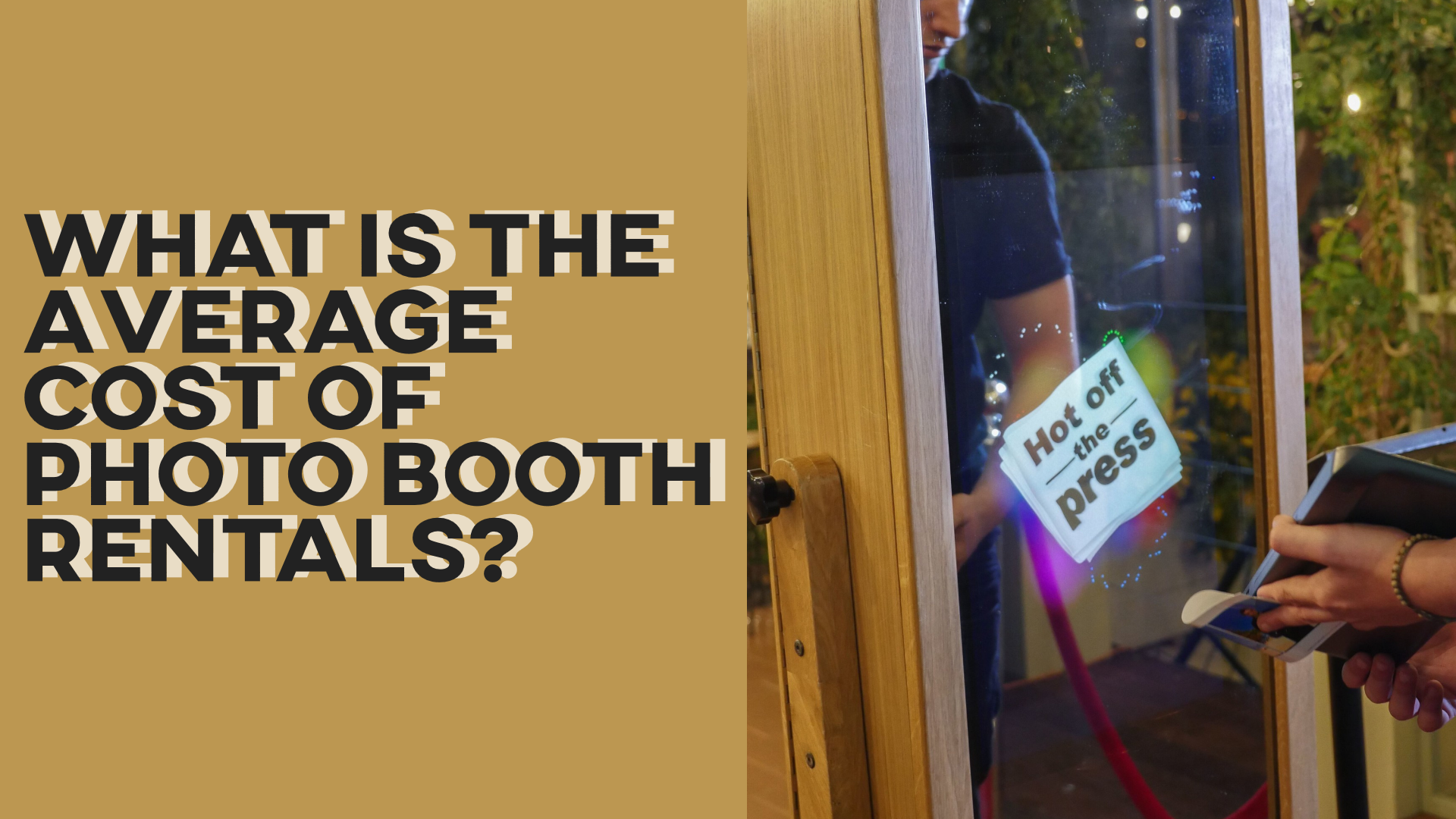 What Is The Average Cost Of Photo Booth Rental?
So you are looking for a photo booth rentals in bay area for your next party or an event. Following questions may crop up in your mind such as:
What Is The Average Photo Booth Rental Cost?
How much does a mirror photo booth cost?
How Much Does Renting A Photo Booth Cost?
How Much Does Photo Booth Rentals Cost?
In this post, we will have a look at the estimate Photo booth rental cost in Bay Area for having a Unique mirror photo booth for your next party or event.
Photo booths

Photo booth particularly means a digital booth comprising of a touch screen, a built-in camera with complete a fun customizable capabilities used to shot pictures.
It is an interactive tech solution that snaps amazing photos and comes with options to instantly share the photos on social media platforms. After money has been inserted in the machine, multiple customers can enter the booth and pose for a set number of exposures.
These days it is has become an integral part of many brand launch events, wedding parties, birthday parties, Poker Tournaments , Prom Parties , corporate parties, Grad Night Events , concerts or other such fun events and parties in San Francisco, Bay Area!
Not only is it tempting to have a photo booth for your parties, but different brands and fundraisers can also benefit greatly from this new-age interactive advancement.
Photo booths can add loads of fun to any type of event you're hosting.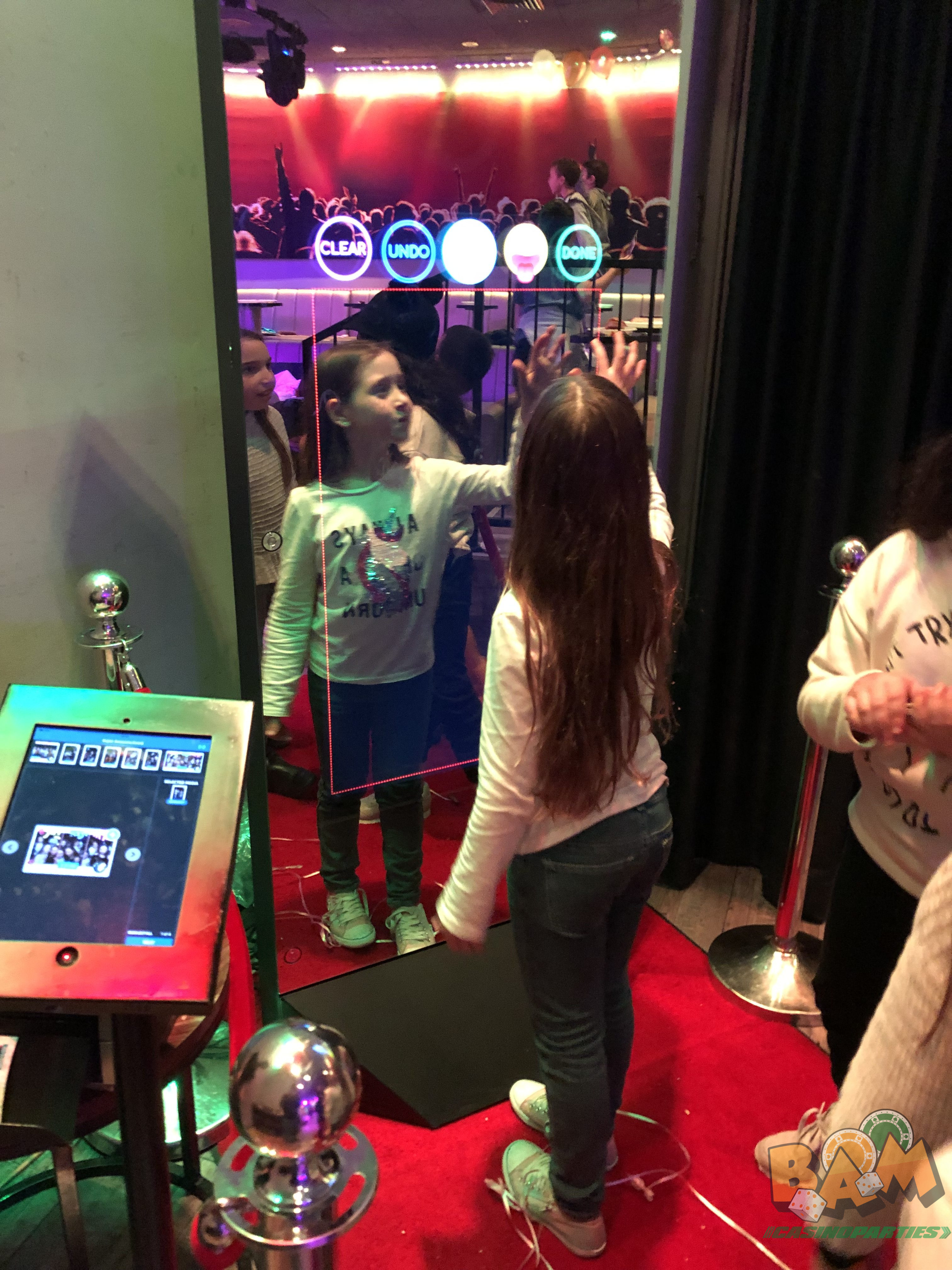 A
party
photo
booth
is
basically
a
fun
, 
interactive
experience
where
guests
might
take
a
set
of
photos
 (
usually
three
or
four
) 
which
get
immediately
printed
out
on
a
strip
as
a
keepsake
.
When
you
rent
a
party
photo
booth
, 
service
provider
creates
the
booth
or
photo
station
at
your
event;
a
photographer
staffs
the
booth
and
coaches
guests
regarding
how
to
use
it
throughout
the
entire
event
.
In
most
cases
the
photo
booth
rental
company
provides
props
like
silly
hats
, 
wigs
and
glasses
. 
There
are
different
types
of
party
photo
booth
rentals
.
Mirror photo booths are the most popular and in trend photo booths in U.S.
The
standard
enclosed
photo
booths
that
you
could
have
observed
at
the
mall
or
the
fair
are
likely
to
be
more
expensive
to
rent
, 
because
they
are
harder
to
maneuver
and
also
will
cost
more
for
the
pros
to
buy
them
.
The
national
average
cost
for
party
photo
booth
rentals
is
$250-$500.
Make Sure they are:
Officially Trained
Support 24/7
Offers the Latest Interactive Features
Owns the World's Most Advanced Photo Booth
Why should I pay for a photo booth?

Oh, that's easy to explain. We all are not dancers, there are few who might never want to hit the dance floor and some may never have danced as well. So, it's always a good idea to bring an alternative activity to your event so that your guests are engaged well in the party.
Photo booths can be considered as the ideal choice because they are able to serve both the purposes – offering your guests with some non-dancing entertainment and providing a take-home favor at the same time.
Also read – How To Host A Perfect Casino Themed Party – A To-Do List
Why are photo booths popular these days?
The popularity is due to its appeal and usage for people of all ages. This is even ideal for guests of all ages, from your little ones to the grannies. All can enjoy the party.  Everyone likes to be clicked, old or young and having a fun way to do it naturally is usually exciting for people.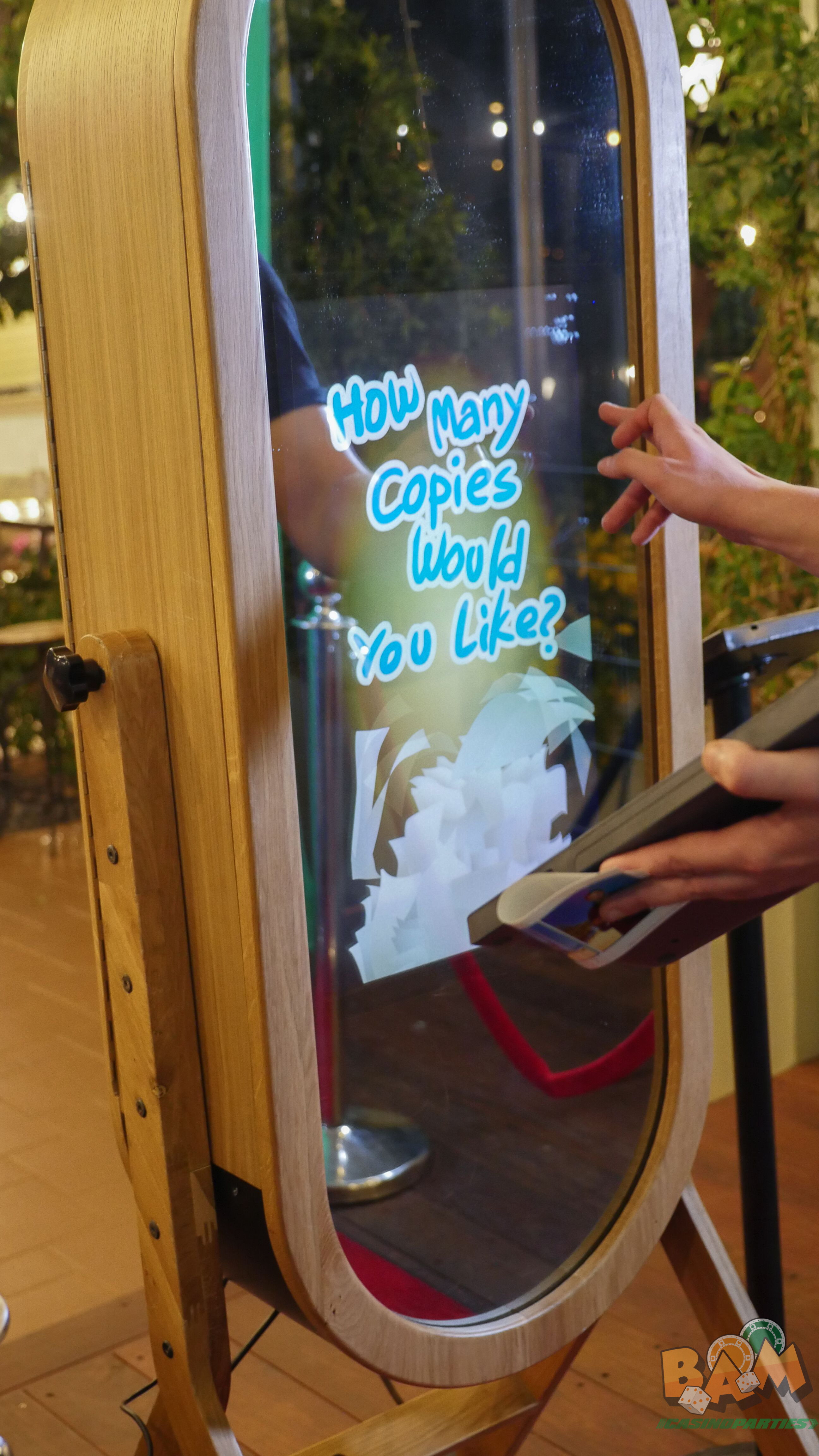 Photo Booth Rental Bay Area Cost
Renting a party photo booth for your next event will get your guests engrossed and take home great memories of their party, it can be a wedding party, birthday party or any other event.
The cost of party photo booth varies depending on the the length of the photo booth rental, type of photo booth, the day and time of year, and any add-ons you select.
Photo booth rentals cost approximately $125-$250 per hour and offers you 2 or 3 hour minimum time for a casino event. In most of the cases, an hour or so is extended by paying a few extra bucks as per the time slots.
You can also enjoy popular add-ons like props, photo strips, custom backdrops, and video capabilities but with an increased cost.
The average cost to rent a photo booth in Bay Area for an event ranges between $125 to $500. The budget depends on rental time, days or a particular time of the year.
The prices may increase on Saturdays and Sundays and major holidays like New Year's Eve or busy weekends like prom. The type of photo booth that you rent will also affect the cost of photo booth rental.
Also read – Casino Themed Party Games
What are the various kinds of photo booths?
Photo booth types include the following:
Open-air photo booth: You do not require any booth here! You just need a camera to be placed on a tripod or table and your guests can control when the photos are taken.
Old-school photo booth: This is the most popular amongst all. Move in groups inside a booth, enjoy making silly faces, and then wait for a printout of your images.
Slow-motion video booth: The booths provide your guests with slow-motion videos that they can post on a social media platform.
GIF-maker photo booth: Your guests can be a star in their own short animated clips and share with all their followers. Instead of still pictures, you can enjoy short Gifs
360-degree photo booth: These can make a great addition to weddings, big events, fundraisers and many as well! You can be captured well from every angle.
---
Also Read
Casino Party Outfits Ideas   –    Casino Themed Party Decorations Ideas   –   Casino Theme Party Favors & Gift Ideas
---
Green screen photo booth: Your guests can easily personalize their images by choosing any funny backdrop.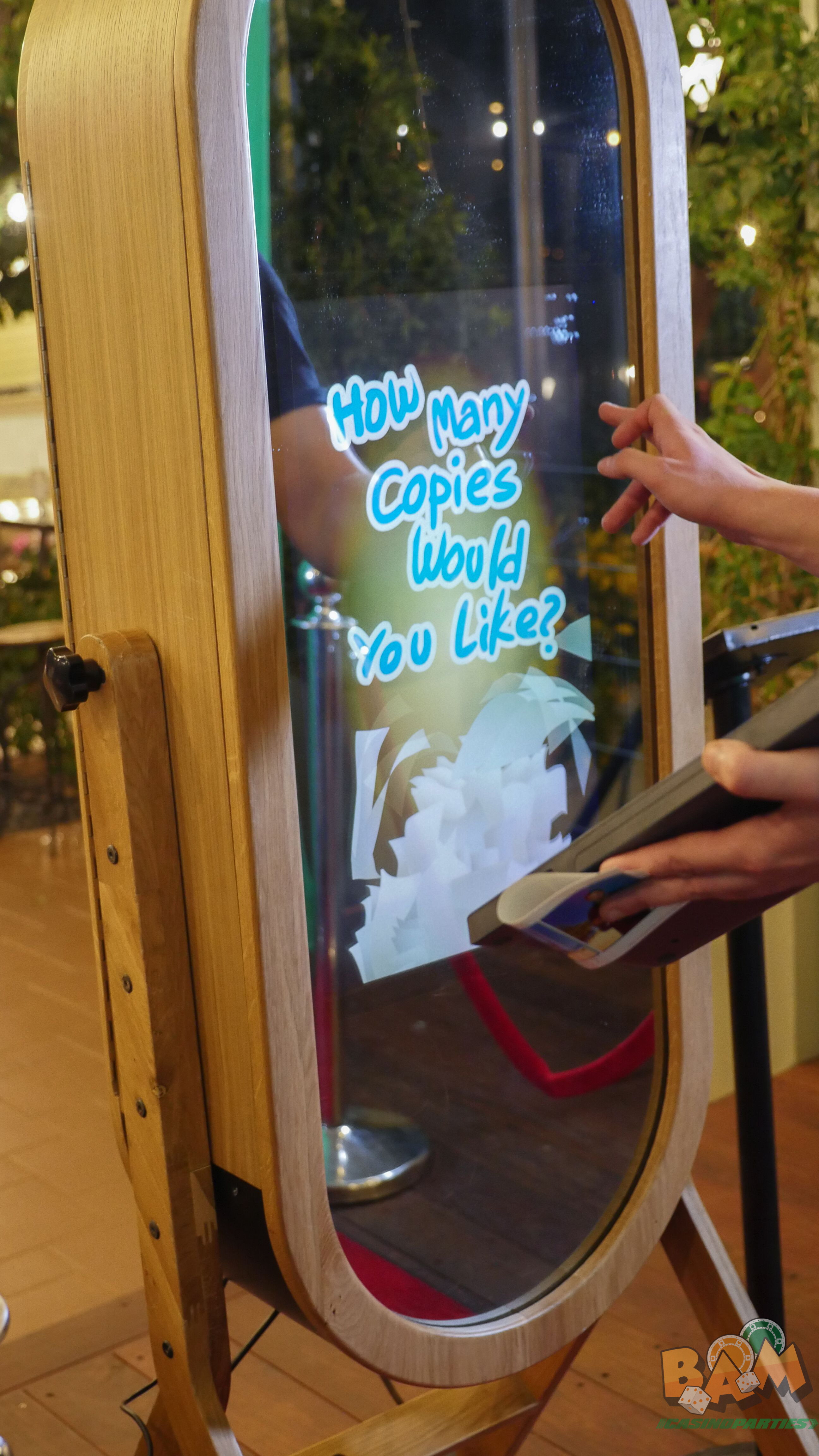 Oval interactive mirror photo booth: The BAM Oval Mirror Photo Booth is a unique photo-generating product that offers the latest technology in interactive picture taking. The wooden oval mirror has a smart design and a user-friendly interface, communicating with guests through a touch screen of colorful animations and entertaining voice guidance.
You can easily choose to include voice guidance, vibrant animations, touch based photo-signing, emoji stamping, interactive contests, social games, colorful photo countdowns and more.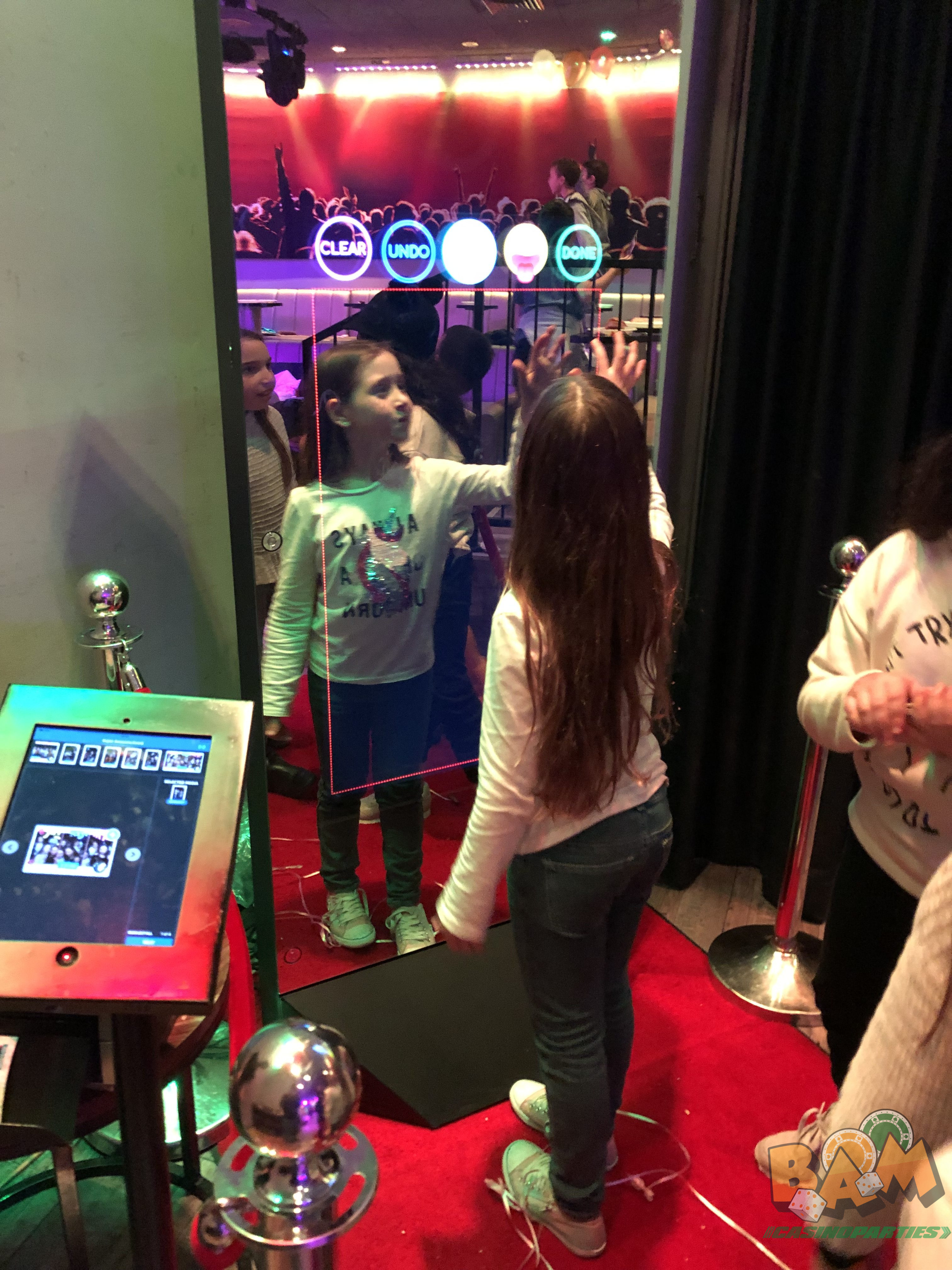 Tower Mirror Photo Booth: It is a portable magic mirror that manifests photo booth advances demanded by the events market: Incredible WOW factor with a breathtaking, 6 feet tall, all-mirror design; Pristine quality with tempered glass and an all-aluminum body.
It offers a smart design and a user-friendly interface that can  communicate well with your guests through a touch screen of colorful animations and entertaining voice guidance.
For which parties can I use photo booths?
These are commonly requested for kids' parties, adults' birthdays, festivals, corporate events, high-school reunions, fundraisers, prom night, school events, bar and bar mitzvahs, sweet 16s, and other special occasions, photo booths are a welcome party addition for any size crowd.
Be it a small get together or a big fat wedding, you can always enjoy these fun fueled activities.
Also read – How To Choose Venue For A Casino Party?
Some Tips For Having Best Photo Booth Rentals
Renting a photo booth for a casino party is a big expense, you have to decide your budget in advance. Just these are not enough, you also need casino rental equipment, so keep in mind you're working with a reputable company that can deliver you great results.
Before paying any advance or deposit always ensure few below-listed steps are followed:
Reviews: Read user experiences online to avoid anyone who has a sub-par product, has unfriendly staff or doesn't follow through on their contracts.
Licenses: Confirm that the companies you have shortlisted have pertinent business licenses as this can protect you and your guests in case of an accident.
Budget: If the price seems too good to be true, it probably is. Quality equipment is an investment, so anyone with low ball prices may be operating a photo booth that isn't as fancy as you might desire.
Features:  If you just want a classic photo booth that prints out black-and-white strips, keep it simple. If you want a high-tech photo booth with all the bells and whistles, you can have that, too. Just keep in mind that, the increased features means increased rental cost.
Attendant: Even self-operating photo booths run best with an informed technician on hand to troubleshoot any problems and keep things running smoothly. Most operations offer this service.
Prints:  Find out whether your rate includes prints as well and that too how many?
Also read – How To Play Poker   –   How To Host a Texas Holdem Poker Party?   –   How To Play Blackjack
Let's dive deep into various cost-saving strategies .
Book your photo booth in Bay Area on weekdays or off-seasons to avails the best rates.
Big gatherings with approximately 100 guests may be satisfied with two or three hours of photo booth time. Ask to extend hours during the event in case it is needed rather than overbooking ahead of time.
Schools, nonprofits, military organizations, and other groups are often eligible for discounts. So, ask for genuine discounts.
Photo booths are a unique way to make your casino events are casino nights a little more unforgettable and entertaining. From wedding receptions to celebrity occasions, they're the right party favor.
These come in handy, with all their photographic charm, creative capabilities and several customization choices it provides.
We also Serve Surrounding Areas in Bay Area & Silicon Valley including:
Photo Booth rentals in San Mateo
Photo Booth rentals in Oakland
Photo Booth rentals in San Carlos
Photo Booth rentals in Atherton
Photo Booth rentals in Castro Valley,
Photo Booth rentals in Santa Clara,
Photo Booth rentals in San Jose